Craftsman 12″ Electric Trimmer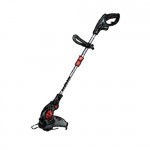 Sears has a Craftsman 12″ 4 amp electric trimmer on sale for $25. Shipping adds $9.50 but you can avoid that cost by selecting in-store pickup. This is a great deal for a 12 inch electric trimmer and the lowest price around for equipment of this nature. Keep the edges of your lawn trimmed and your yard looking clean!
The model number is 21212 and you can find it by going to the Sears website and typing "craftsman 21212" in the search bar.