The Home Depot is offering the 20 inch self propelled rear wheel drive lawn mower with Kohler engine for a new low price of $249.00 with free shipping or store pick-up in most areas! To see this mower, just follow our link here. The model number is 10604.
Thank us by liking our Facebook page!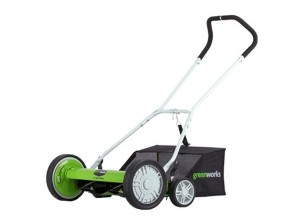 While supplies last, Pep Boys is giving out free reel lawn mowers to those who bring in an old gas mower. These are 18 inch 5 blade Greenworx mowers. Pep Boys may also be offering large discounts on electric Greenworx mowers with the trade-in of a working gas lawn mower. The conditions are that the mower you bring in must work, and that it can't have any gas in it when you bring it in. How they will test if the mower works without any gas in it… that is a mystery.
The best way to get information on this deal is to call your local Pep Boys and ask for information on the promotion because availability is specific to store locations and their inventories. As always, get the specific model numbers available and check out the reviews online. This deal is probably best for those who own old gas lawn mowers that do not perform well. Here are the reviews of the 18 inch reel mower on Amazon.
Hey lawn mowers! Amazon has a great deal going on for their Husqvarna 7021P 21″ 160cc Honda GCV160 Gas 3-N-1 Push Lawn Mower w/High Rear Wheels.
This great Honda mower is on sale for $239 after rebate. This mower has been rated very well, especially for a mulching mower. The price on Amazon is currently $279 and you can send in a mail-in rebate to get an additional $40 off and bring the price to $239. The rebate is good through April 30th, while Amazon's prices do fluctuate some. This mower also has FREE SHIPPING!
Link to Amazon Product Page!
Sears has the 160cc 22″ front drive self-propelled lawn mower for sale for $299. The great thing about this mower is that is has a reliable Honda engine. To make the deal even better, you can use coupon code "GREENSPRING" to save $25 and cut the price to $275.
In order to save on shipping costs you can select in-store pick-up.
Here is a link to the Sears page that has this lawn mower for sale.
From March 19th to March 25th only you can enter to win a free Black & Decker self-propelled lawn mower from Amazon.com. To enter for this prize just use your Facebook account to like Amazon's Facebook page and then enter to win by filling out the sweepstakes form.
While you're on Facebook, check out our Facebook page at http://www.facebook.com/usedlawnmowers and like us to thank us for notifying you about this offer! Good luck in the sweepstakes!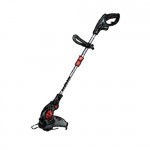 Sears has a Craftsman 12″ 4 amp electric trimmer on sale for $25. Shipping adds $9.50 but you can avoid that cost by selecting in-store pickup. This is a great deal for a 12 inch electric trimmer and the lowest price around for equipment of this nature. Keep the edges of your lawn trimmed and your yard looking clean!
The model number is 21212 and you can find it by going to the Sears website and typing "craftsman 21212" in the search bar.